Colour this tree and its surroundings. You could draw animals or children playing underneath.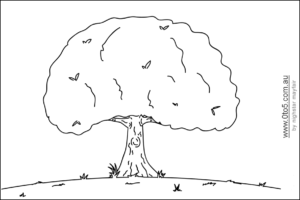 Related skills: fine motor, language
Discussion Topics: Colour the template.
Talk about trees and their importance. What animals need trees?
Do you have a favourite tree in your garden or in the park?
Talk about different types of trees including trees that give us fruit and nuts to eat.
As part of a larger project to record what you see in your neighbourhood, including street trees, see Shady Lanes Project – What I saw on the way