"What I saw on the way" instructions
This activity encourages children (and adults) to notice, remember, record, and discuss some of the things they see on their journeys – to and from school, going to the shops, or any other journey.
When used in the classroom, all children can be included – those who come by car or bicycle will just see different things to those who walk. Walking will generally provide a greater variety of things and doing this activity regularly is likely to encourage more children to want to walk to school.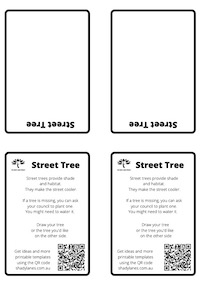 Print the sheets and fold in half then cut up the centre to make two cards.  On one side are some discussion points and the other side is for people to illustrate and decorate any way they choose.
Allow the children to select the card(s) they want.  One child might want to do multiple houses or multiple flowers, another will just do one of everything. There is no right or wrong.
You can do one card per day and build up a pile of cards like a journal, or as many cards as they want in one session to see who has the most. Do what suits your circumstances and timetables best.
Personalise by writing names and dates one either side – or inside.
Discussion topics could include:
How different ways of travel affect what you notice along the way
Your most or least favourite part of the journey
What would you change about our streets if you could
Have fun and please share how this works for you on facebook.
Suggestions for new cards are welcome.
Variations
Use for journeys from home to the shops – or any journey. If you use it repeatedly for the same journey it will be interesting to see if they start noticing more. They can also notice changes – flowers in season or if someone paints their house a different colour etc. Writing the date on each card can help keep track of changes.
PDFs for printing (2 per page)
More templates coming soon
Fold in half and Cut to make two cards